INTERESTED IN BECOMING AN INDEPENDENT TRAVEL ADVISOR?
COMPLETE AN APPLICATION FORM HERE
WHY YOU SHOULD JOIN US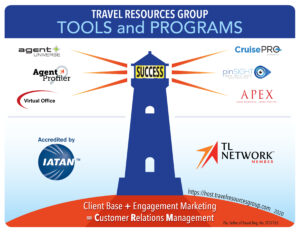 Travel Resources Group is an IATAN-accredited agency supported by Travel Leaders Network as our consortium. We have the tools and resources you need to grow your business and be successful.
Along with competitive commissions, Travel Resources Group makes it easy to manage your business. 
We offer a virtual office, comprehensive marketing program, CRM system, and a broad array of programs
available through the Travel Leaders Network (such as Agent Universe, Apex, Pinsight, Cruisepro).
"Now's the best time you'll ever have in life to get ahead" – Zig Ziglar
Watch the video below or read the message from our manager to help you decide if you are interested in starting a conversation.   
"Hello my friend. My name is Ilja Chapman and I am the Manager of Travel Resources Group.
I am here to help you find answers to your questions. 
Of course, you wonder — Why should I join Travel Resources Group as my Host Agency? 
You might have heard my story in other videos, but you may still have many questions.
I want to let you know that we are a Boutique Host Travel Agency offering a professional and personal platform.
What does that mean?
It means that we offer professional assistance with database management, marketing solutions, bookkeeping and vendor knowledge and access.
On the personal side we offer Training, Coaching and most important Support and Community.
I am here to tell you that we like to share, we like to listen, and we do get excited when we see our agents succeed! It is exciting because we succeed together!
A unique feature of our agency is that we share hot leads from our existing database with our Independent Advisors.
Once you make a booking for each lead, they become your clients, and their data will be safe guarded in your branch of our system.
The bottom line is:  At Travel Resources Group, we have created a virtual agency office environment where you will feel inspired and supported. We provide all the tools so you can focus on growing your business.
By moving your business to us, you will not have high monthly overhead costs anymore. You will use TESS online, which is a well-known Reservation and Client Management System that makes it easy to manage your bookings and to market to your clients.
Commissions are paid promptly each month, and the percentage paid will pleasantly surprise you. We prepare monthly financial reports for you so you can easily keep track of your income.
You will find that working with Travel Resources Group is truly a Boutique Experience!
I invite you to start a conversation with me.
Learn how we can assist you in strategically pivoting your business to be able to keep you moving forward during these unnerving times.
Let's talk in person and find out if we are the right fit for you, both economically and personally.
I look forward to talking with you soon."